Cutter Morning Star High School ACT ASPIRE Interim II Testing Schedule All students in Grades 7-10 will be testing on campus the following dates and times: Tuesday, February 16, 2021 - 8:30-10:30 AM Wednesday, February 17, 2021 - 8:30-10:30 AM Virtual students will be tested on campus and must arrive at school before 8:20 AM and ready to test. Mr. Stage will send an email and virtual students/parents need to respond to the email by Friday, February 5, 2021.

HI Parents and Students, High School progress reports go out on Friday, February 12th. This report will be based on grades up until Wednesday, February 10th. I encourage all of our students, if you are behind, please get caught up before next Wednesday. If a student has two or more failing grades when progress reports come out, they will be required to attend Academic Hall which will be from 2:25-3:25, Monday through Thursday. This attendance will be mandatory for all students including athletes until all grades have been raised to a "C" or better. Academic Hall is not punitive but is simply a way to support those students who may be struggling. Our goal in this is to provide the necessary support so that all of our students can be successful. There will also be incentives for those students who receive all A's and B's. More information will be given on this later this week.

Note: STOMACH BUG! If your child is sent home from school for stomach bug symptoms, they must be symptom free x48 hours before returning. If your child has any symptoms of the stomach bug, please keep at home so we can keep all students and faculty healthy. Thank you,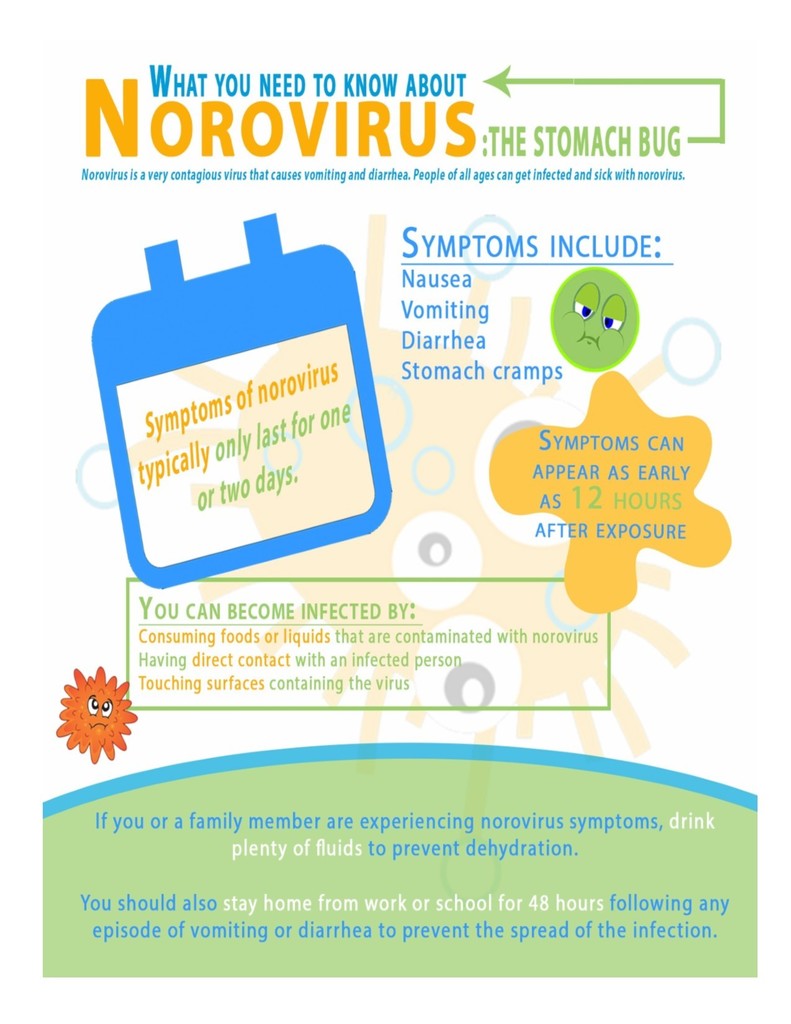 Dear Parents/Students: Two picture day events have come and gone in October and in January. I wanted to reach out to you and the students that have been either absent, temporary virtual or full-time virtual during those days. If you would like your portrait to be included in the yearbook this year, there is still time to make that happen. You have a couple of options: 1) You can take a picture of your child up close and against a solid light colored background wall or sheet (inside or outside). Make sure the lighting is good. Take a few shots and email them to me by Friday, Feb. 5th. Make sure to include the FIRST and LAST NAME, and GRADE. 2) If you are unsure about taking a picture and sending it to me, then you can come to the high school from 3:30 - 5:30 p.m. on Wednesday, Feb. 3rd and I will take your child's picture for the yearbook. You must email me and let me know so I will be expecting you and your child. This year has been one for the books so far and we don't want to leave anyone out. Looking forward to hearing from you soon!

Covid-19 update from the Nurse.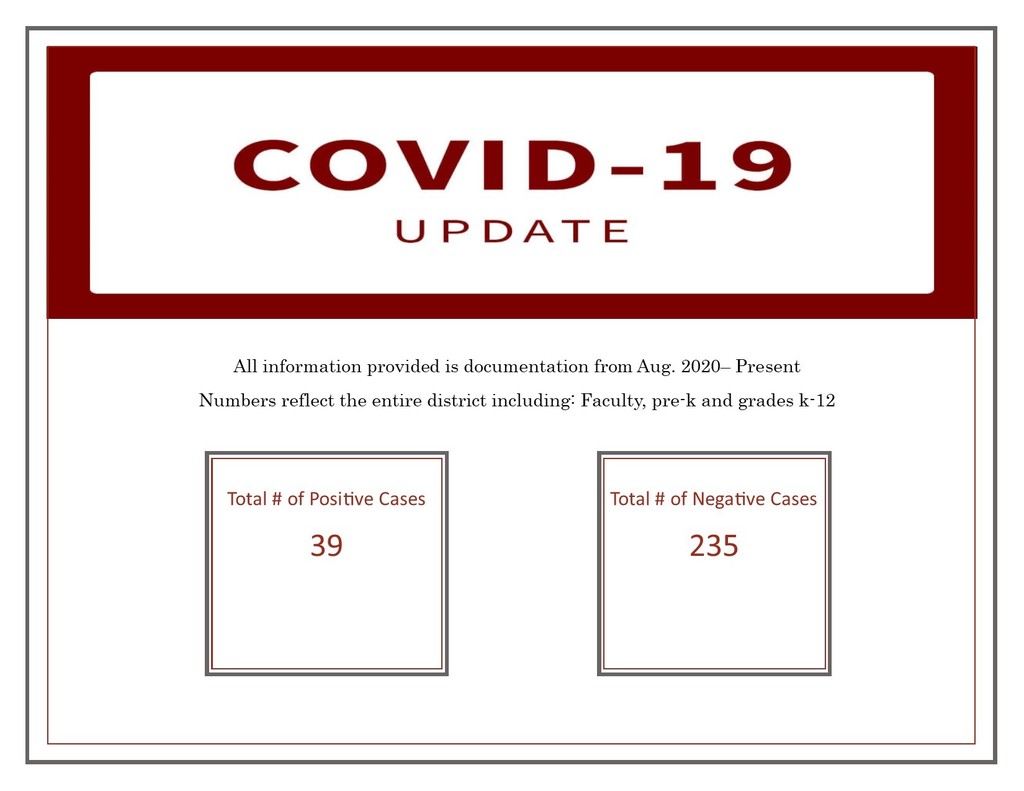 It is the time of the year for our seniors to start applying for FAFSA and Academic Challenge….and applying to college. If you are planning on going to college, you need to be at the school Friday morning 1/22/21 from 9:00 am - 12:00 noon. Students may bring their parents' 2019 taxes and Mrs. Diane Meredith can walk you through the application. She will bring 3 staff members with her. Should be able to knock out everything on that day. This is actually something that is normally getting close to being finalized by this time. Money for college is hard to come by and we want all of our graduating seniors to have an opportunity to attend college and forge a career path for themselves. If you plan on attending college this fall make sure you are at this meeting on Friday. Sincerely, Matt Carter HIgh School Principal.

Picture Day is Coming! Wednesday, January 13, 2021 in the MPB for retakes K-11.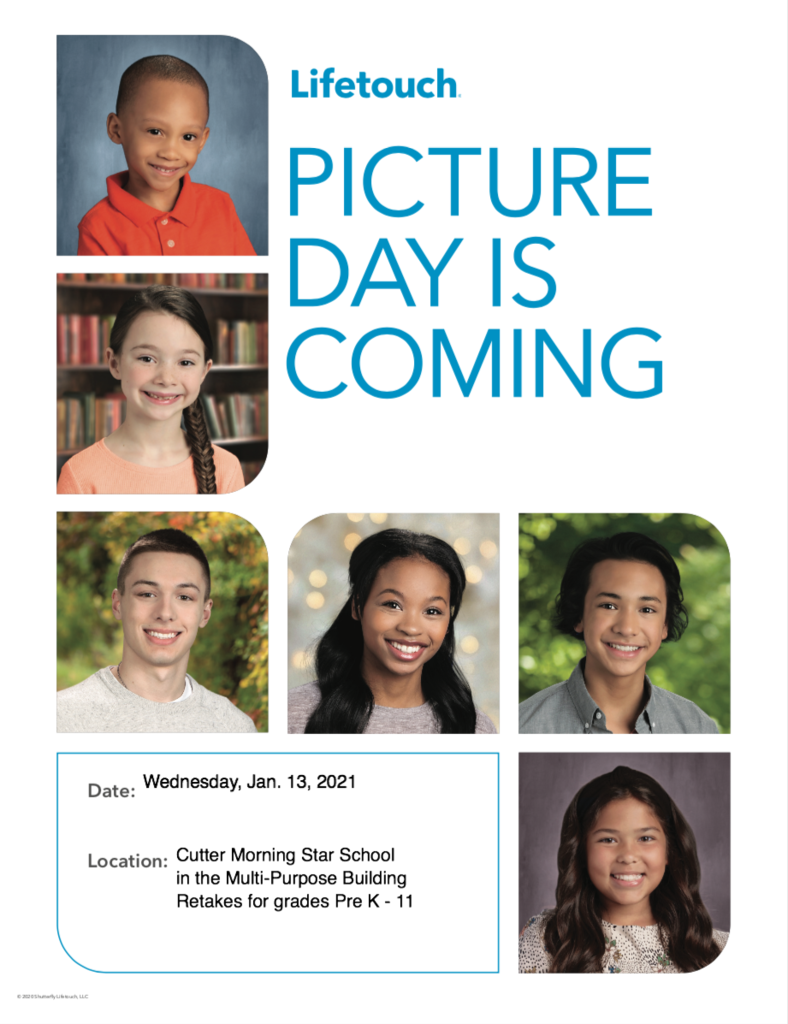 Message from the Nurse.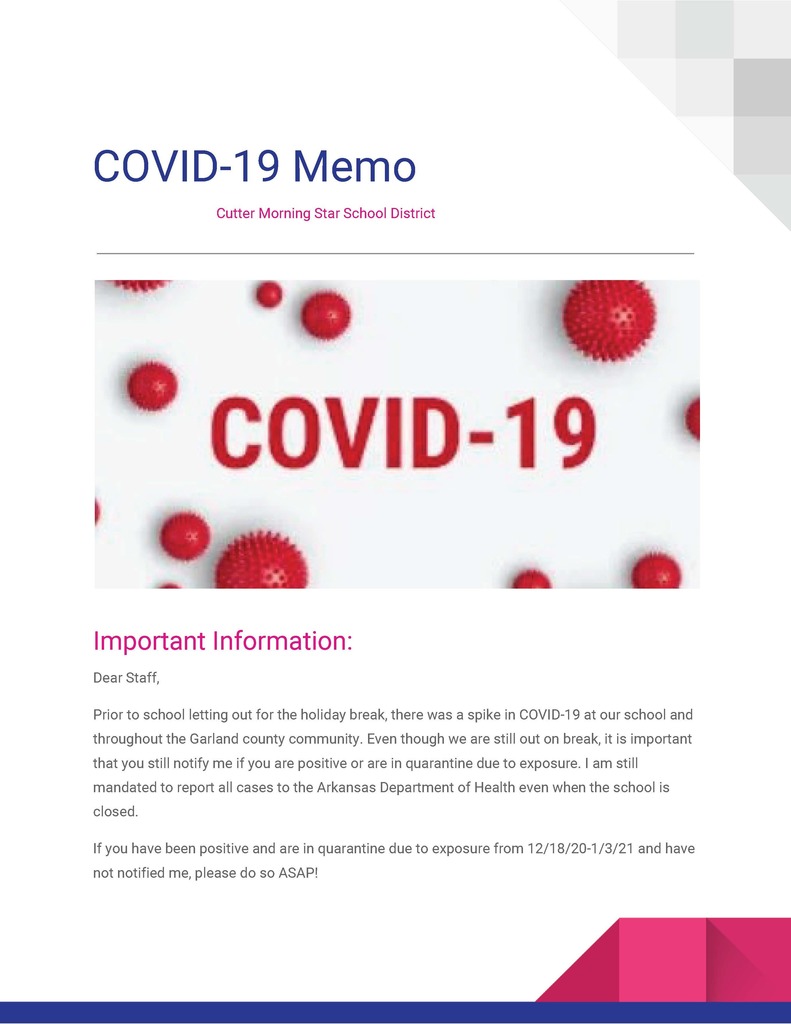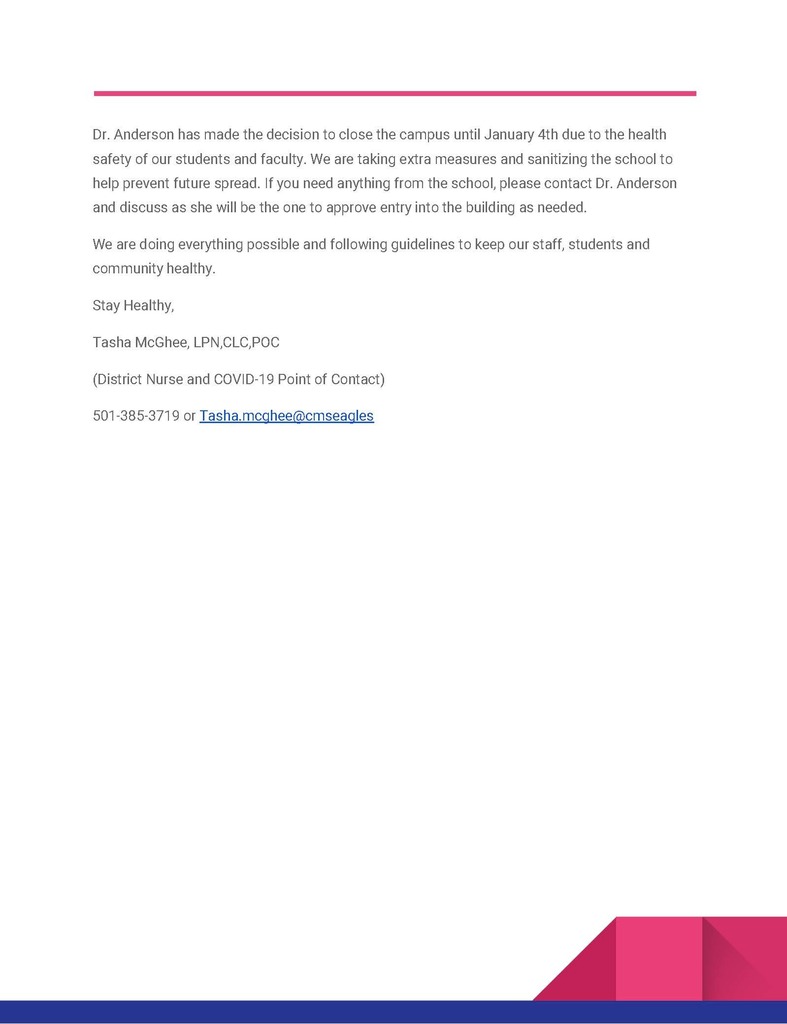 Meals available free of charge for anyone in the home 18 years of age and under.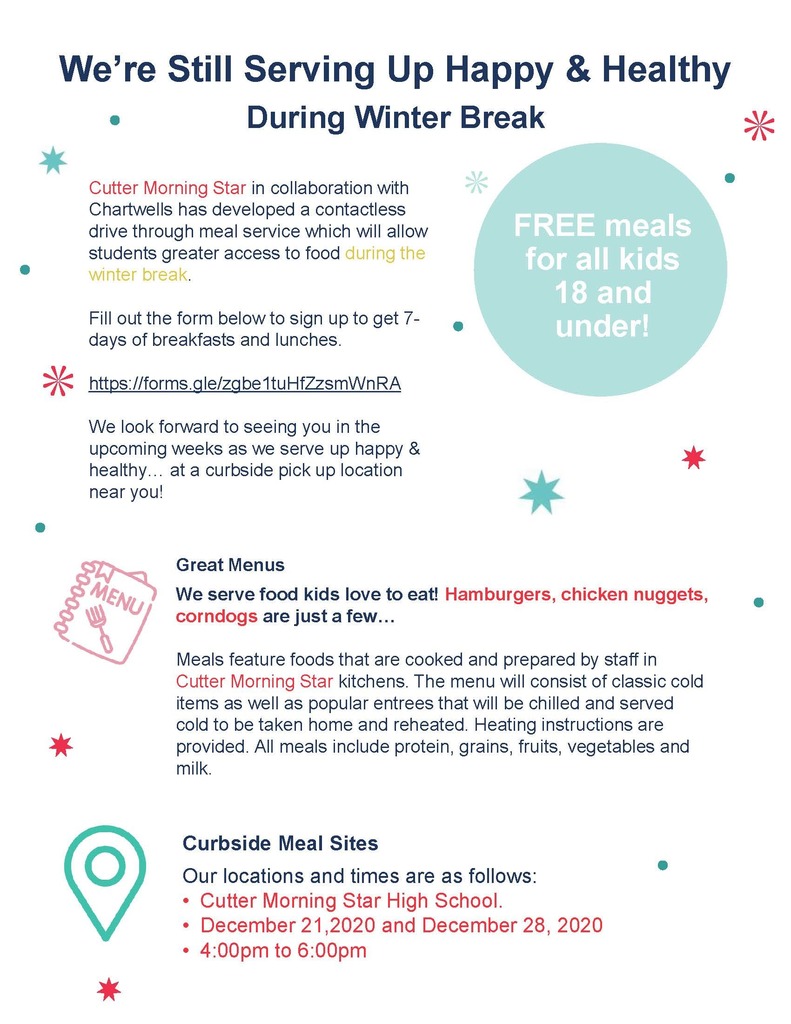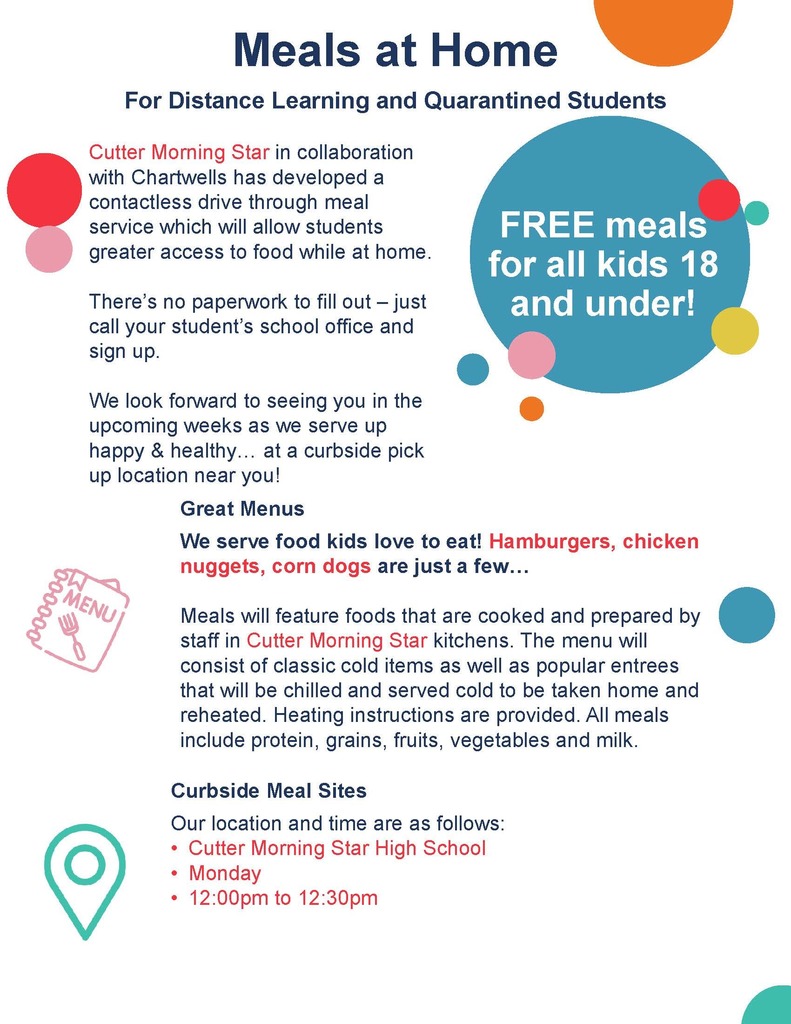 CMSSD Newsletter and Student Spotlight edition.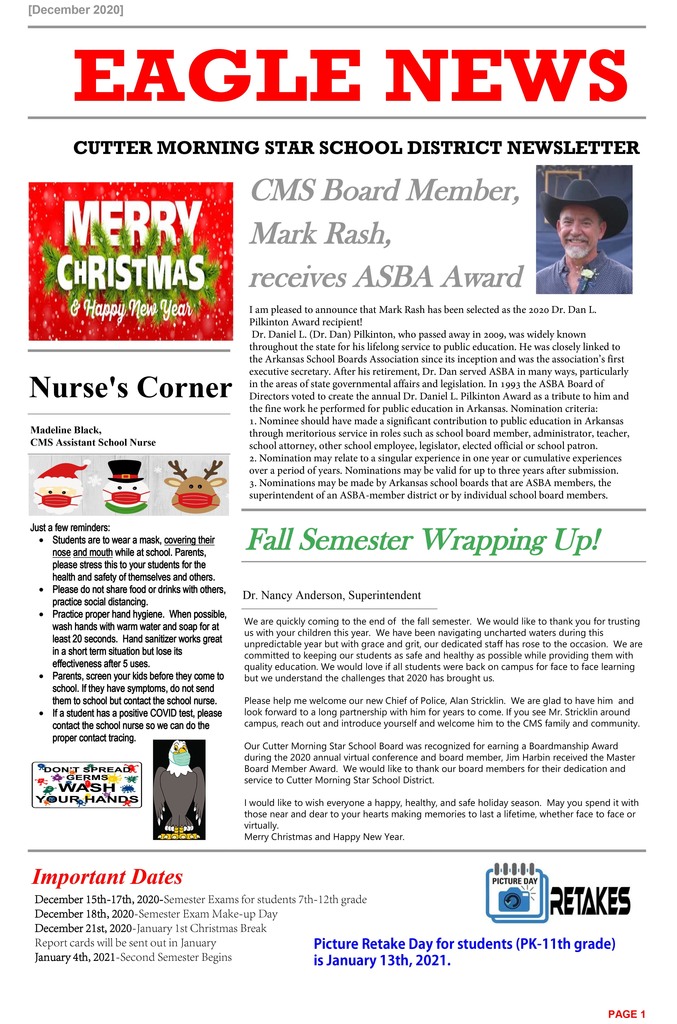 Lifetouch has provided a special offer to ensure each family at our school gets the opportunity to preserve this school years' memories. To order school pictures and take advantage of this offer, visit mylifetouch.com.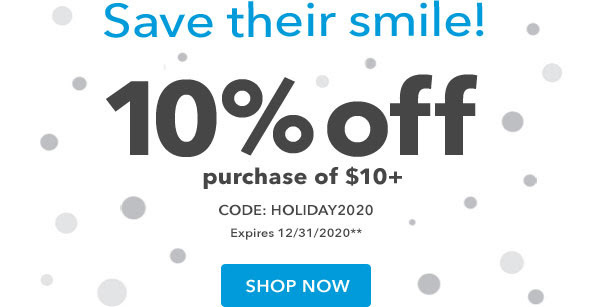 Vouchers for the game on Monday against Bismark will only be available through the office until 3:30 pm this afternoon 11-20-2020.

Dear Eagle Basketball Parents and Fans, We would like to update everyone on some info regarding tonight's games and Monday November 23rds games @ Bismarck. First, Tonight will be a 3 game night starting @ 4:30 against Baptist Prep. The order will be 7G, JG, SB. There is NOT a Junior Boys game. Second, The voucher situation on Monday is 100 tickets per game. If you plan on attending all 3 games or multiple games you must have a voucher for EACH game, you only pay once but must have a voucher for all games you plan on watching. Once they reach capacity for a game they will clear the stands after the game and if you do not possess a voucher for the following game you will be asked to leave. Each player will receive 4 vouchers and the rest will be general public tickets that will be in the High School office starting at 10:00 AM today. The game lineup for Monday is JG, JB, SB starting at 4:30. If you have any questions please direct them to Coach Brickell at 501-538-7360. Thank you and Go Eagles!!

Reminder: Tonight's game with Arkansas Baptist senior girls game has been canceled. The games will start at regular time at 4:30 and the senior boys game will be right after the junior boys game. Also, the games for Monday night at Bismarck will start at 4:30 the senior girls game has been canceled and the senior boys game will start right after the junior high boys game thank you

We want to invite everyone to come be a part of the inaugural season in our new basketball arena. We are excited to be playing our first basketball games in eagle arena tomorrow night hope for a successful year amid the COVID pandemic. A couple of notes to be aware of if you attend basketball games this season. Facility: How far must family groups be separated? Family groups must be spaced 6 feet apart. Who has to wear face masks? Everyone in the facility is required to wear a face mask at all times, except players that are actively participating. Stay safe and please follow the guidelines. Go Eagles 🦅

Please help us spread the word in our community about our upcoming Fight Against Hunger. If you know anyone in need of a free meal we urge you to send them our way on Wednesday, November 24th, 2020 between 11am and 2pm. Please see the attached information.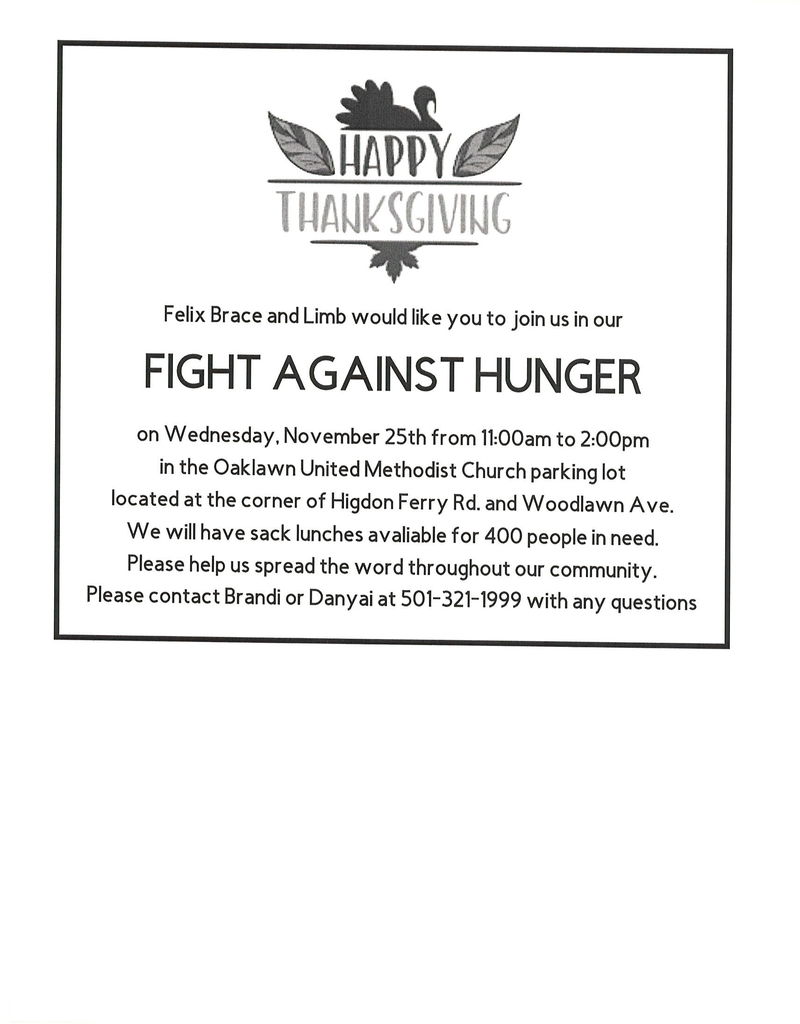 Thank you for your service.

Message from the Nurse.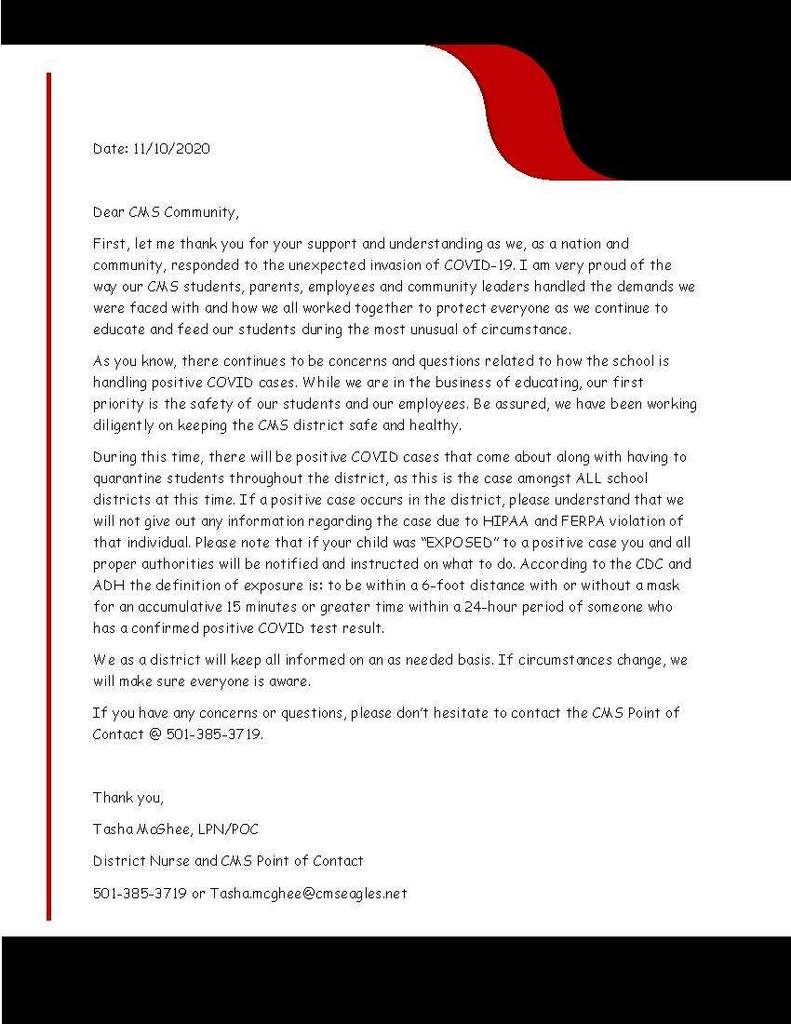 Dear Eagle Basketball Parents and Fans, Due to Covid-19 there will be seating restrictions in almost every gymnasium that we will travel to. Different gyms will have different numbers of seating capacity for visiting fans. For the first week of games at Fountain Lake (11/9) and Abundant Life (11/12), the capacity will be 75 and 50 for each respectively. I know this is tough as many of you have several people that want to attend every game. We are giving two vouchers per every player on both girls and boys teams, if someone doesn't have anyone that is travelling to the game we try to give out the extras on a first come first serve basis. After this first week we will leave any extra vouchers in the high school office and try to give an updated number as soon we know from other schools. The good news is that we will have no restrictions here at Eagle Arena so bring all that you want and come enjoy a fantastic year in our new gym! If you have any questions, please contact Coach Brickell at 501-538-7360. Thank you and Go Eagles!!