Thank you for your service.

Message from the Nurse.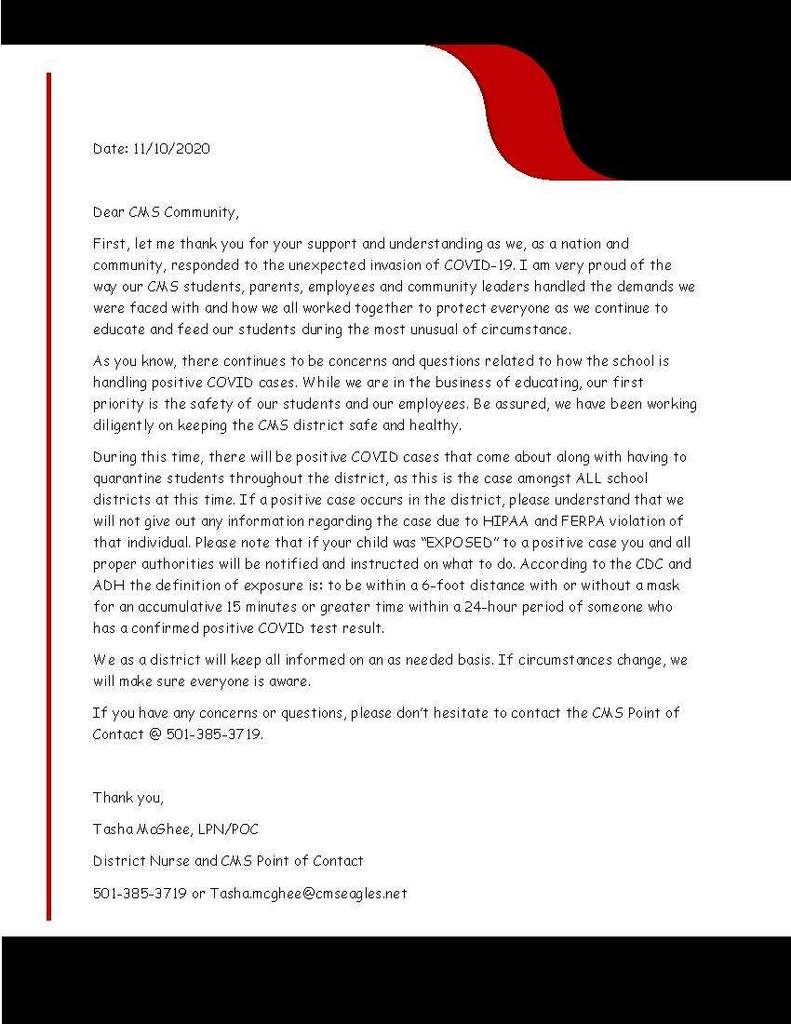 Dear Eagle Basketball Parents and Fans, Due to Covid-19 there will be seating restrictions in almost every gymnasium that we will travel to. Different gyms will have different numbers of seating capacity for visiting fans. For the first week of games at Fountain Lake (11/9) and Abundant Life (11/12), the capacity will be 75 and 50 for each respectively. I know this is tough as many of you have several people that want to attend every game. We are giving two vouchers per every player on both girls and boys teams, if someone doesn't have anyone that is travelling to the game we try to give out the extras on a first come first serve basis. After this first week we will leave any extra vouchers in the high school office and try to give an updated number as soon we know from other schools. The good news is that we will have no restrictions here at Eagle Arena so bring all that you want and come enjoy a fantastic year in our new gym! If you have any questions, please contact Coach Brickell at 501-538-7360. Thank you and Go Eagles!!

District Newsletter for November.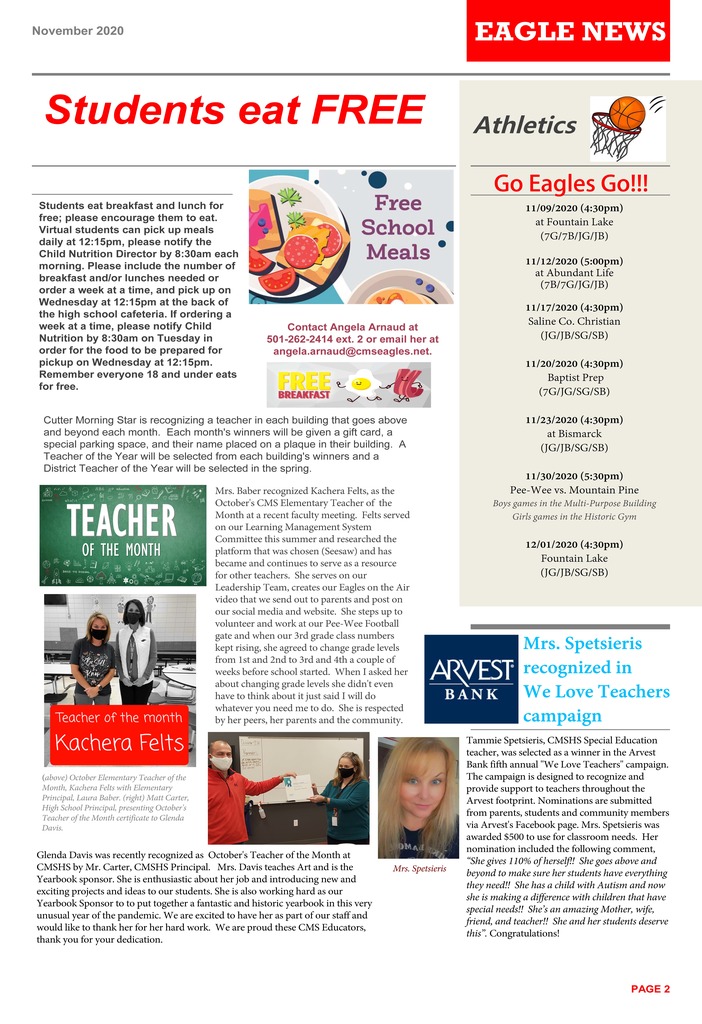 Congratulations to our very own, Maria Pinkerton-Richardson, Region 3 Jr. High Choral Director of the Year! We are very proud of you!

Hi Parents and Students, The Cutter Morning Star Interact Club will be accepting cookie donations for our first ever "adopt-a-cop" program to support our local law-enforcement officers. Please see the attached flyer!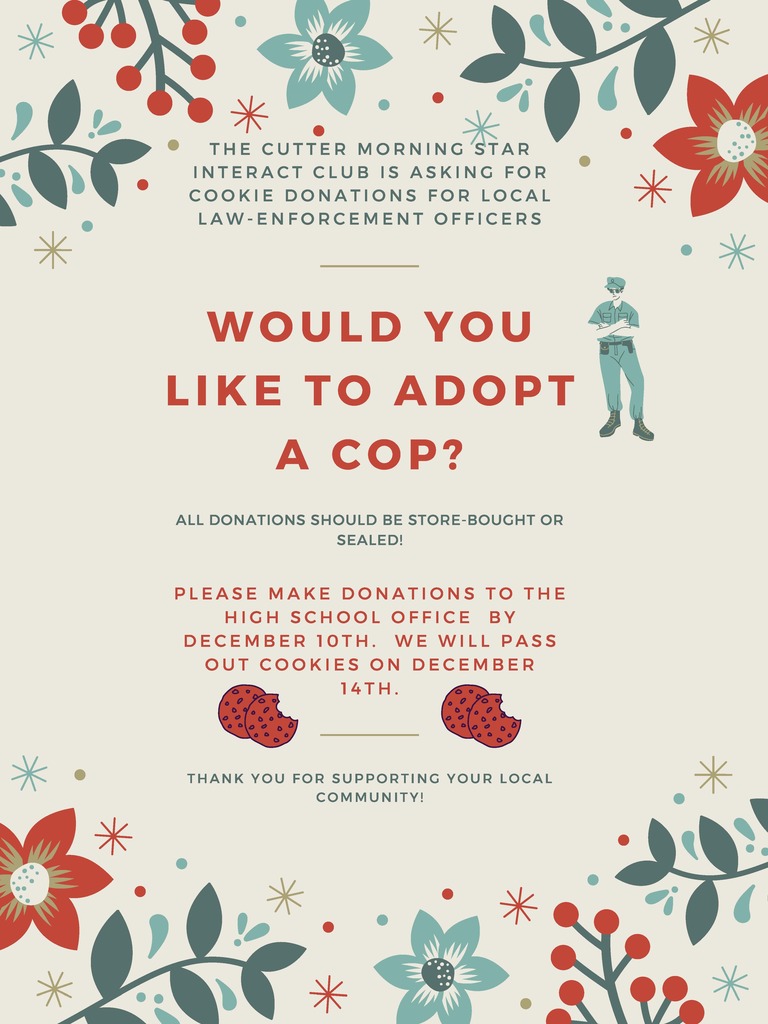 We have been given 100 vouchers for the football game tomorrow night. If anyone wishes to attend the game they will have to have a voucher at the gate to get in. You can contact Coach Kinsinger or the HIgh School office tomorrow.

Happy 75th Birthday Ms. Vicki Philipp. We love you !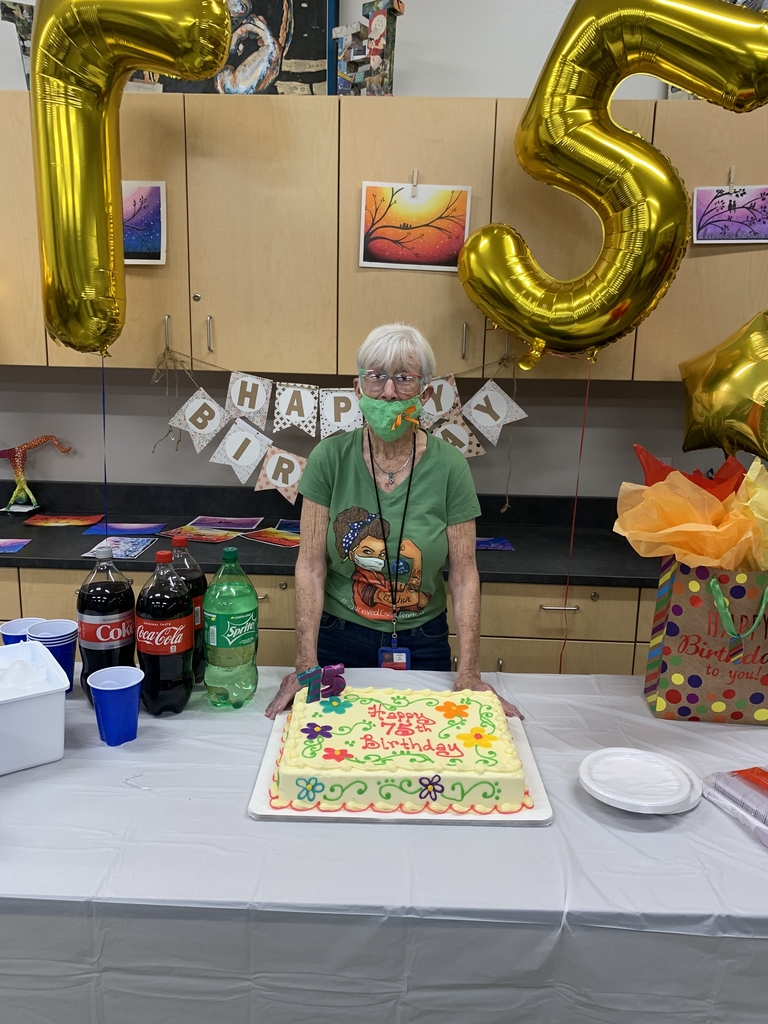 Let's go Eagles! Make history in the new arena with a big " W".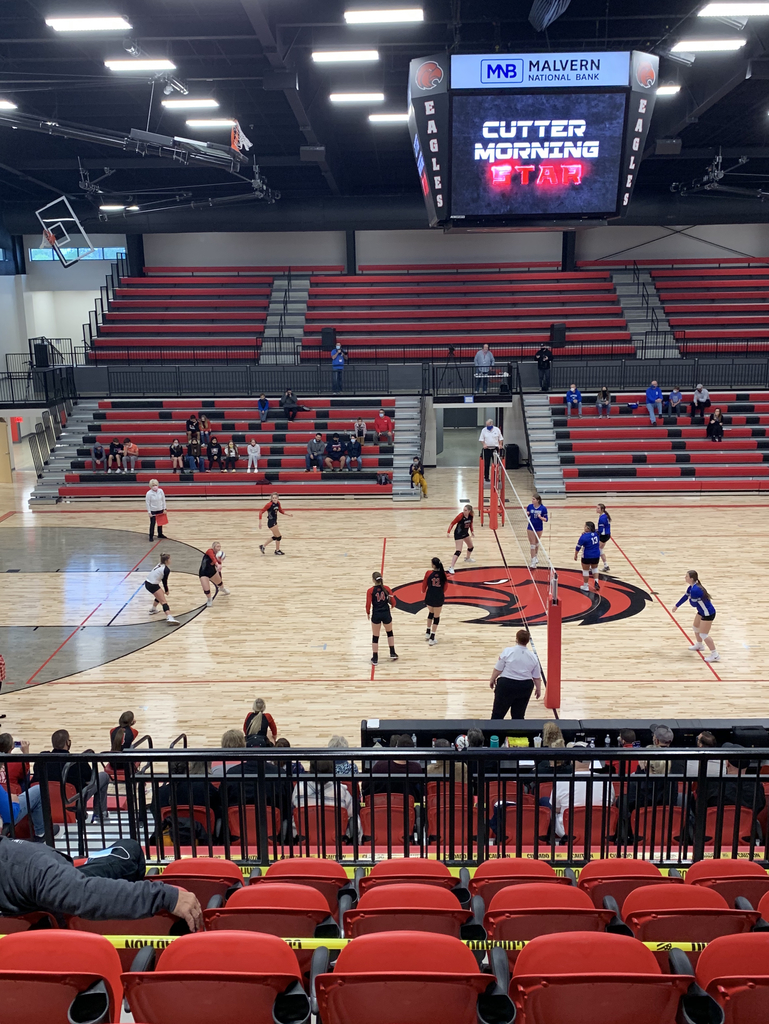 Our hearts are full today as all the hard work and dedication has come to fruition. First of many community events in the New Eagle Arena. Proud to be an Eagle. Our students, staff and community deserve the best.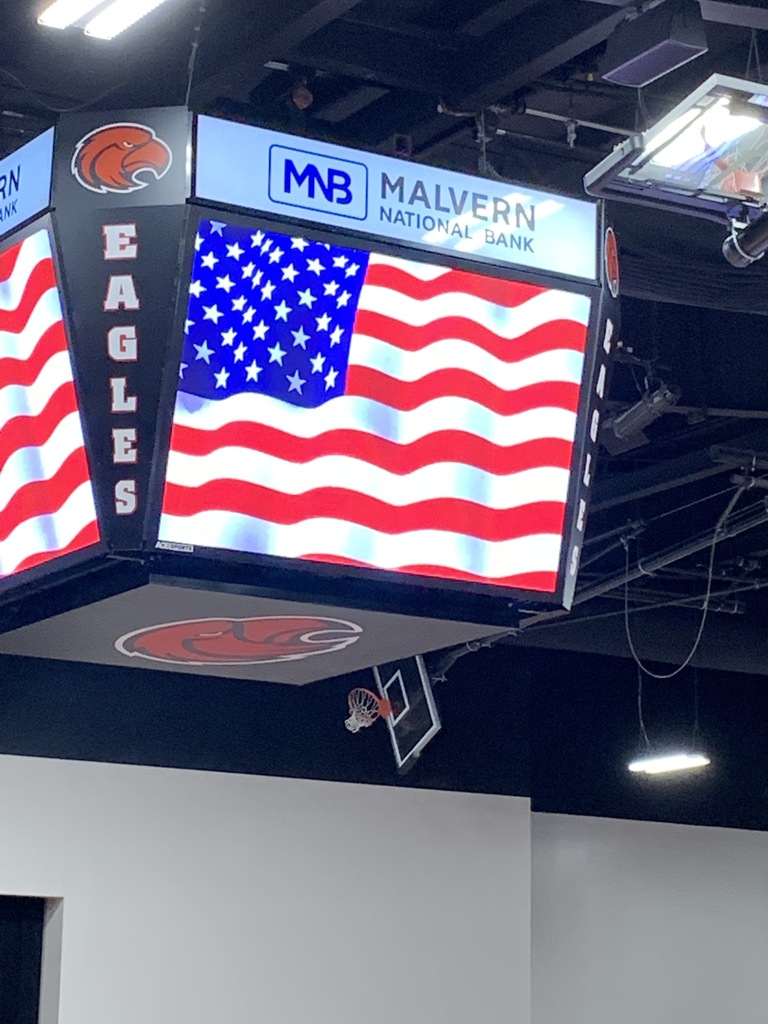 Cutter Morning Star is excited to host the 2A State Volleyball Tournament October 27th-29th! The Lady Eagles have qualified for the tournament and will be playing in the first round on October 27th at 9:00 AM in Eagle Arena. This is a historic game because it will be the first athletic event to be played in the new arena. Please come out and support your Lady Eagles! Tickets need to be purchased on a smartphone PRIOR to each game at this link:
https://www.aractivities.org/tickets

Author Michelle Nelson-Schmidt donates books to Mrs. Tish Tucker's third grade class.

We will have a Sr. Girls District Volleyball game on Monday 10/19 at 6:00 pm. against Abundant Life. We have a Pee Wee football game on Tuesday 10/20 against Mt Ida.

The Homecoming Ceremony will be at 6:00 pm on the football field on Oct. 23! Plan to attend this special game and ceremony The girls pictured left to right are: Senior maid Emily Turner, Junior Maid Alexis Bryan, Junior maid Kyla Davis , Sophomore maid Keaira Polke, Sophomore maid Masann Hamilton, Freshman Maid Kyndal Fox, Freshman maid Dianna Cook Not Pictured: Londyn Harding (Senior Maid) and Emily Tims (Queen) The Little Mr. and Mrs. CMS are Alek'zander Leake (boy) and Sadie Boxer (girl) from CMS 1st grade.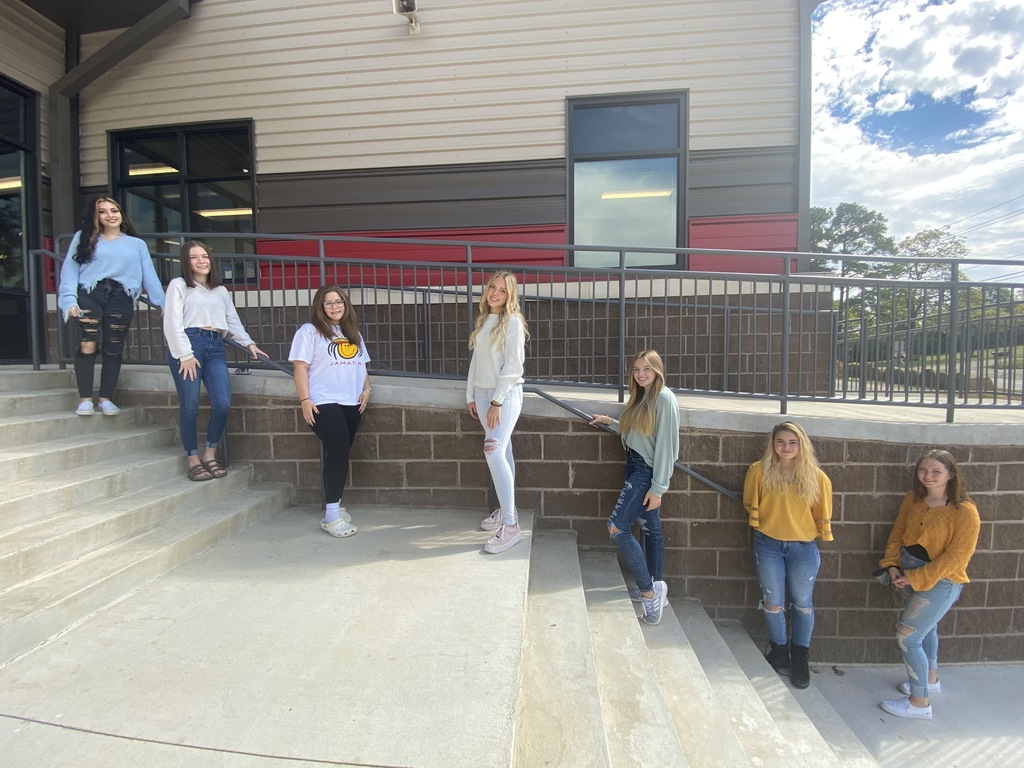 The Jr. Football game with Mt. Pine tomorrow 10/15 has been cancelled and that we will host a Jr. District Volleyball game tomorrow in the MPB at 4:30 against Abundant Life.

Reminder parents and students: Jostens will be here today, Tuesday October 13th, to discuss class rings and graduation regalia. Juniors will need to be here at 5:00 PM in the new high school arena for a presentation on ring orders. Seniors will need to be here at 5:30 PM in the new high school arena for a presentation on graduation regalia and supplies. We look forward to seeing you there!

CMSSD Newsletter. Please note that we have had some changes to our calendar. The virtual days that were scheduled for October 22nd and 23rd have been changed to face to face days for our on campus students. Parent Teacher Conferences have been changed to October 27th for 1 pm to 7pm for virtual conferences and October 28th for those who prefer face to face Parent Teacher Conferences. Teachers will be contacting parents to schedule conferences of failing and struggling students, if you would like to schedule a conference, please email your student's teacher. We will be hosting the 2A State Volleyball Tournament October 27th, 28th, and 29th. Due to COVID, we will have virtual days on the days of the tournament to limit the number of people on campus. October 29th will be a professional development day for teachers.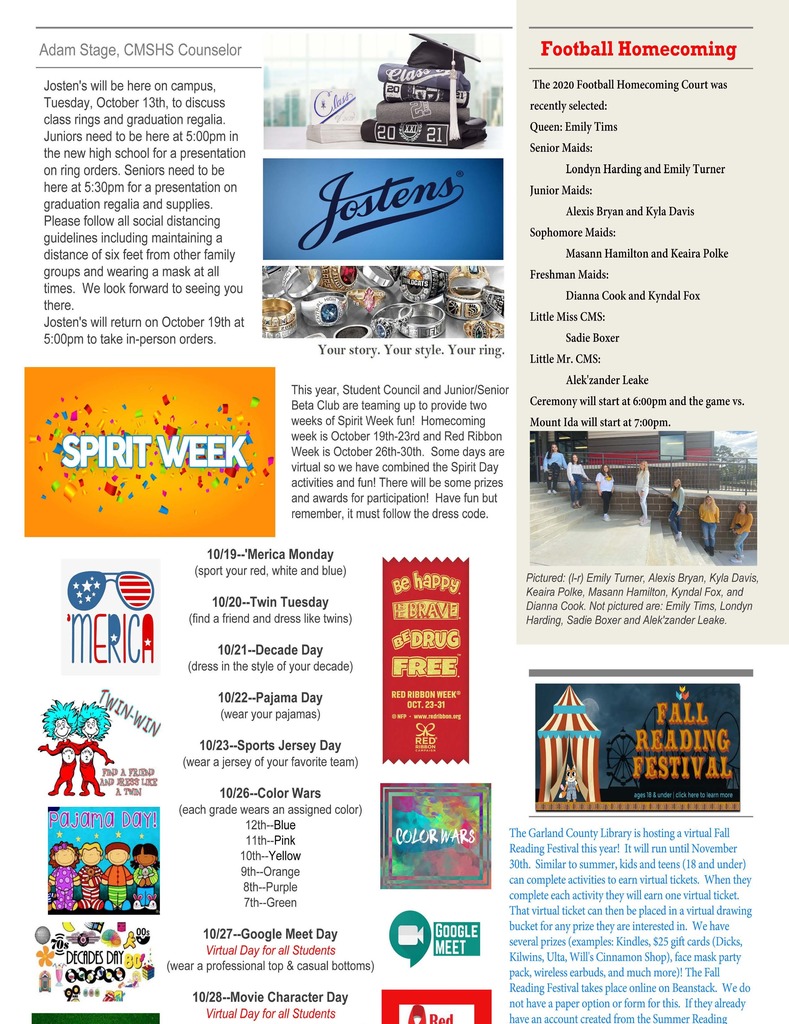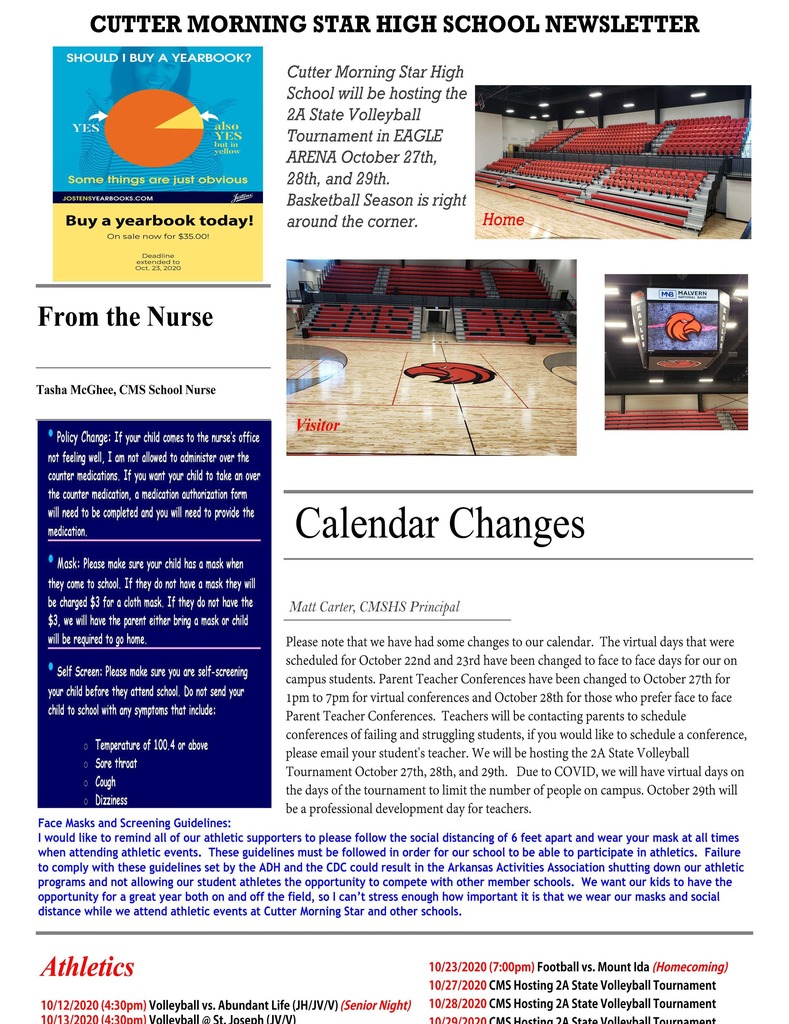 Cutter Morning Star Newsletter October 2020.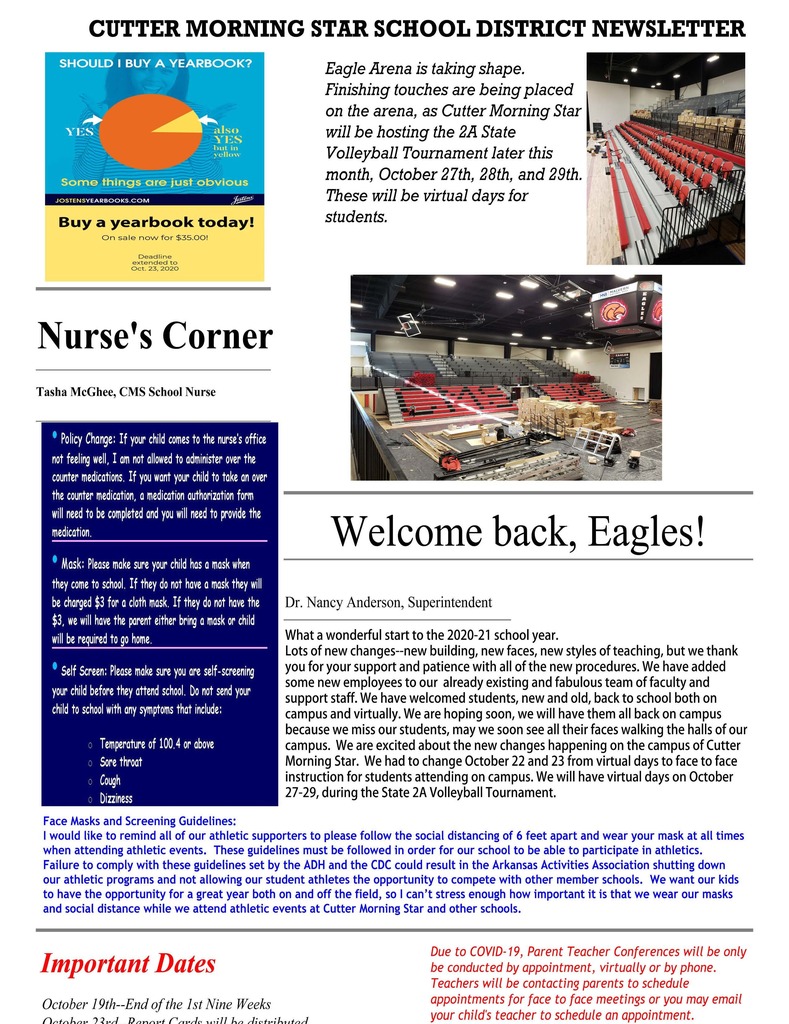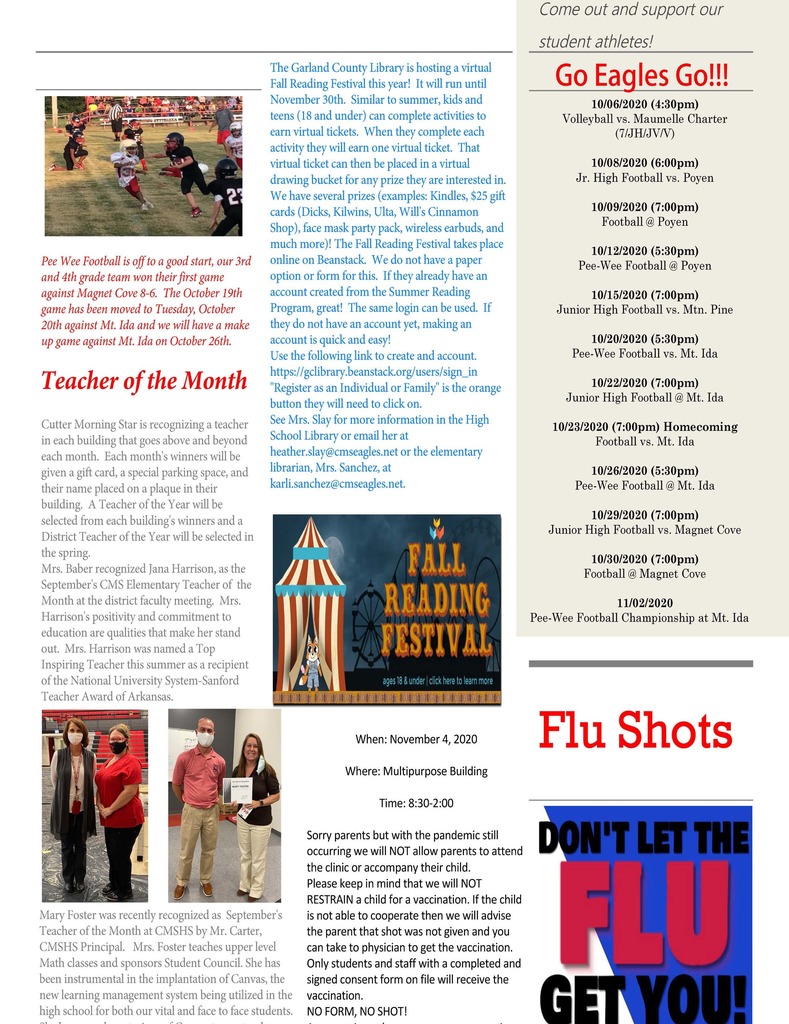 Thursdays Jr High game will start at 6. No 7th grade game. We have 2 changes on the Pee Wee football schedule. Both Changes involve Mt. Ida. The first change is Monday October 19th has been moved to Tuesday Oct. 20th and will be a home game for Cutter Morning Star. The second change involves games this week. There will not be any games this week but we will have an away game on Monday October 26th with Mt. Ida.

Just a reminder: We will be having a financial aid night tomorrow (October 6th) at 6:00 P.M in the new HS arena. This is a great opportunity to learn about all of the scholarships, grants, and financial options available to your senior as they take the next step into their life after high school. If you want to get assistance with filling out the Free Application for Federal Student Aid (FAFSA), Please bring your 2019 tax returns and your personal information, including social security numbers. We ask that both a parent or guardian and the student come together.