The new 2022 yearbooks are on sale for $35.00 until Sept. 24th. Don't miss this chance to purchase your yearbook for this price.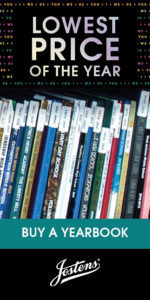 2021 Yearbooks Are In! They will be distributed on Friday, Sept. 3rd. High School will be released from class during 8th period to come to the cafeteria to pick their paid yearbook up and let their friends sign their book. There will be extras for sale but there is limited extras. Contact me if you want to come and buy one before Friday. 2021 Seniors: Come by the high school office on Friday, Sept. 3rd to get your paid yearbook from Mrs. Bissell. Elementary: Come by the elementary office on Friday, Sept. 3rd to get your paid yearbook from Mrs. Jackson.

Hi Seniors 2022 and parents: Senior pictures will be taken on Friday, Aug. 27th from 7:30 a.m. - 1:30 p.m. in the high school choir room and the athletic weight room next door to the choir room. Jostens will be taking the cap & gown pictures and B&W Photography will be taking the casual pictures. There will be no tux and drape pictures this year. Please see Q&A below: Q: Will the cap and gown be provided? A: Yes. They should have the size you need for both. Q: Do I have to come in at a certain time? A: No. There are no appointment times which will work well for the students that are coming back from NPC and seniors that are virtual. But don't wait until the last minute to come and take your picture. Jostens will be wrapping up the cap and gown sessions at 1:30 and B&W Photography will be wrapping up the casual sessions at noon. Be sure to get the casuals done before noon. Q: What if I plan to hire my own photographer to take my senior pictures? A: All seniors must get their cap & gown and casual pictures taken on Picture Day. There is no charge to do that. The cap and gown pictures need to look the same for the yearbook. The casuals can be more individualized so it is highly encouraged to get those taken as well just in case your plans to hire a photographer does not work out. You can submit your own pictures at a later date when I send out a request by email. Q: Is there a senior picture sitting fee? A: There will be no sitting fee. Q: Do I need to bring anything else? A: I am requesting all seniors to bring a baby pic of themselves. Make sure your name is on the back. You may email it to me or bring it in person. I will also have you fill out a senior questionnaire form either before or after you get your picture taken. Q: Will we be taking a senior class picture? A: Yes, eventually but not on Friday. I will let you know that particular date soon. Please reach out to me if you have any more questions at
glenda.davis@cmseagles.net
. Looking forward to seeing all the seniors on Friday.

ATTENTION PARENTS, SENIORS AND STUDENTS! Fall Portrait Day is coming on Friday, Aug. 27th! Jostens will be coming to the elementary and high school to take fall pictures. Senior pictures will be downstairs in the high school weight room and choir room. There will only be cap and gown and casuals taken on that day. B & W Photography will take the senior casual pictures. Seniors please reach out to Mrs. Davis the yearbook adviser if you have any questions. High school pictures will take place in the high school library and students will be called out by grade. Elementary pictures will be in the elementary band room. You can preview and order the Josten pictures you want online and have them sent directly to your home. See you there!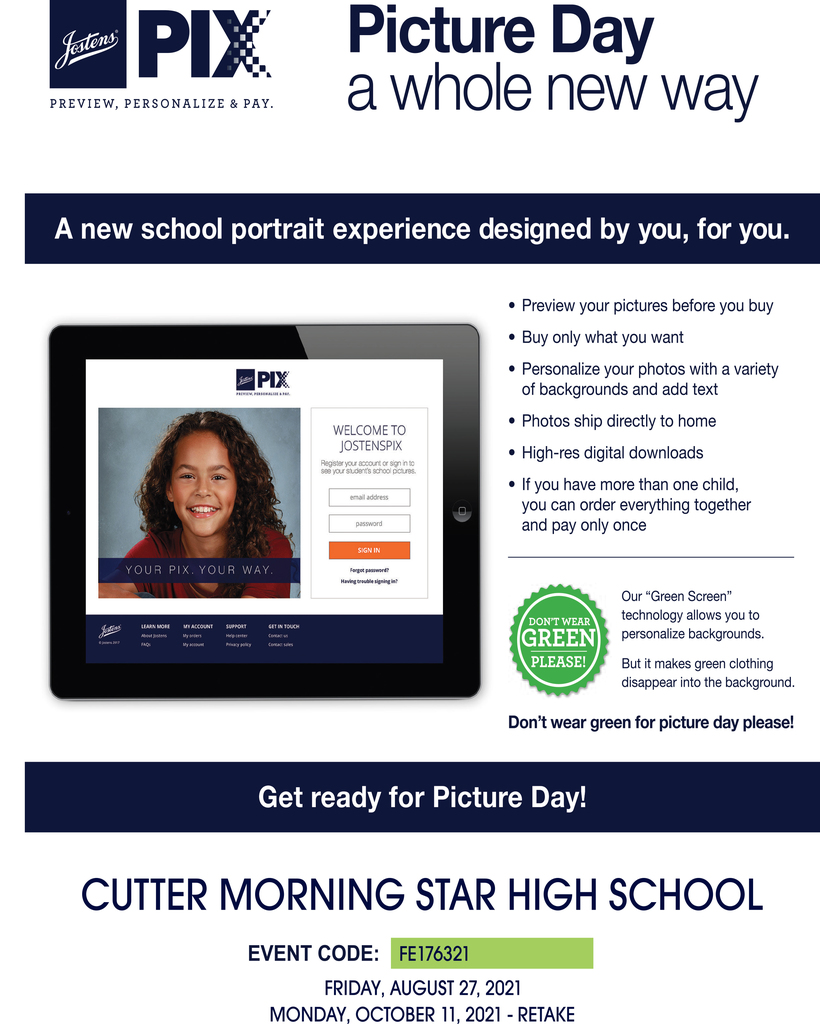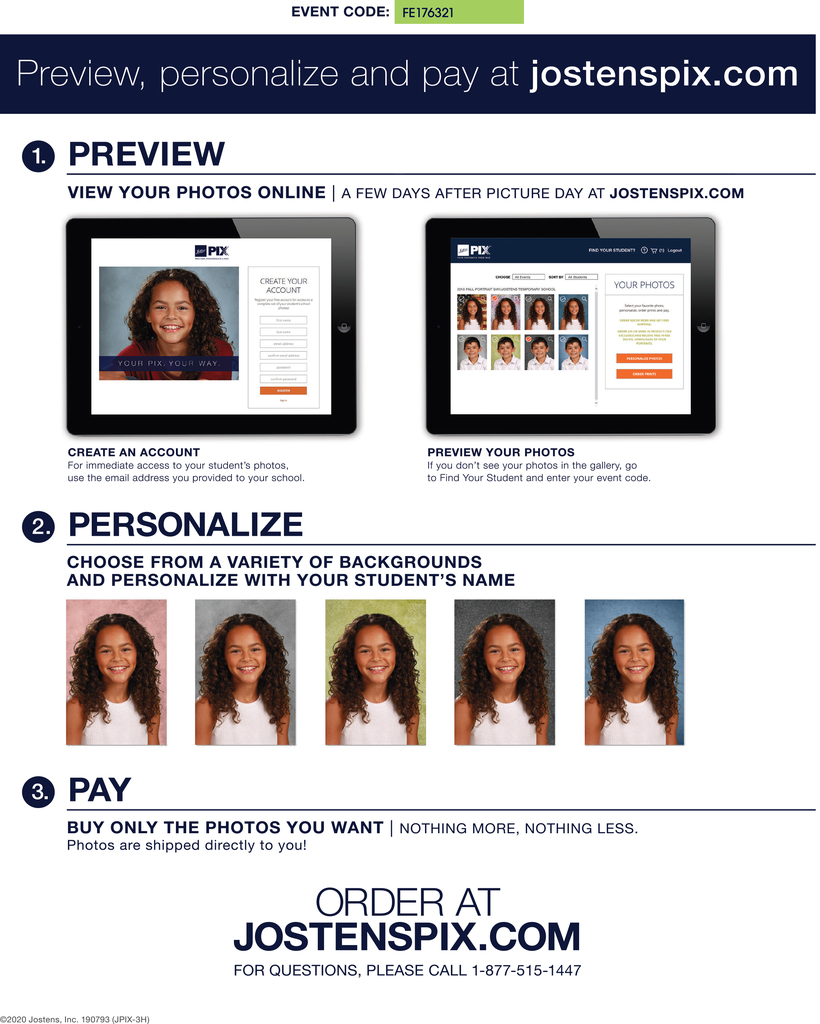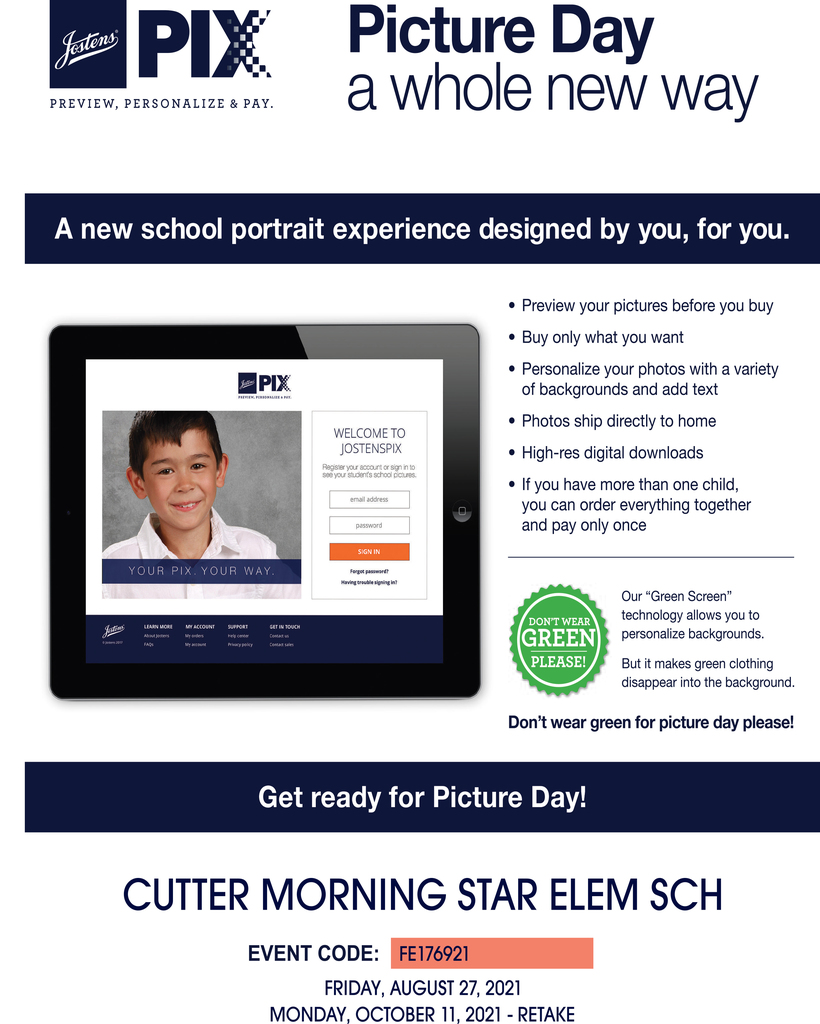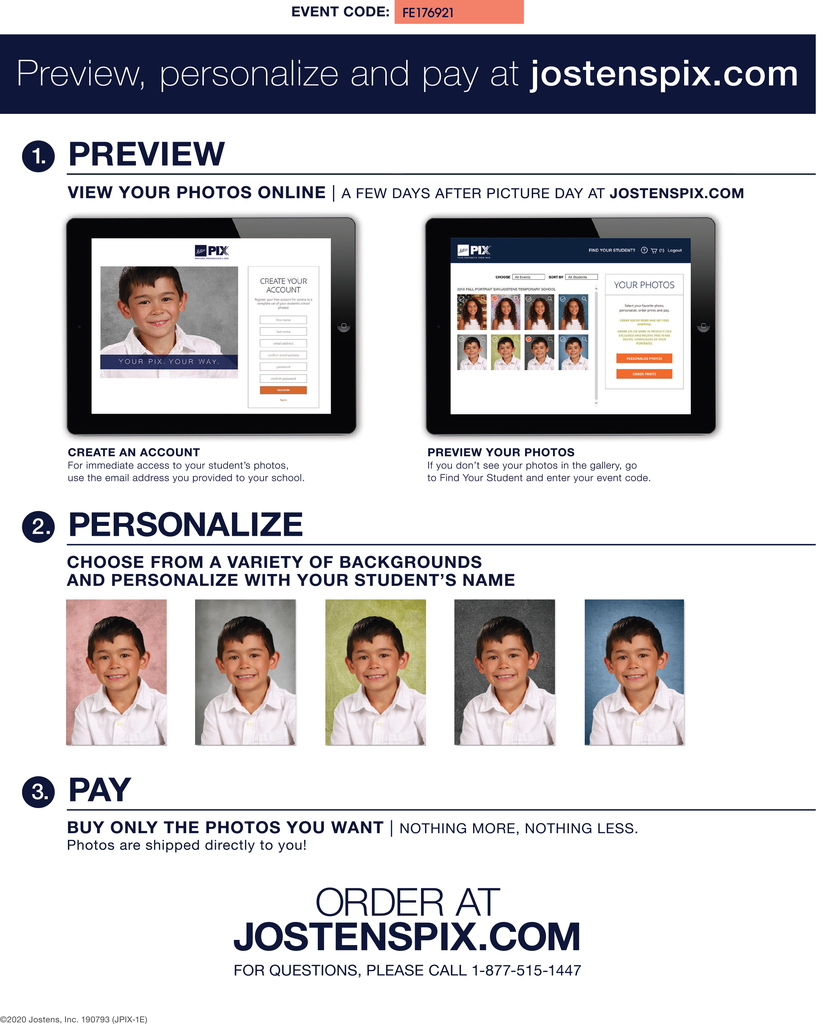 2021 YEARBOOKS: Yearbooks should be in during the first week of school from Aug. 16 - 20th. Keep a look out for an arrival announcement and when they can be picked up.

Congratulations Eagle Anglers Xander Cobb and Eli Rowton for advancing to the World's Tournament in South Carolina. We with you the best of luck! Bring home the "Big one Boys".


Reminder CMS WOW day tomorrow. Guest speaker Russ Taff starting at 12:50pm May 14, 2021 in the Arena. Community members invited.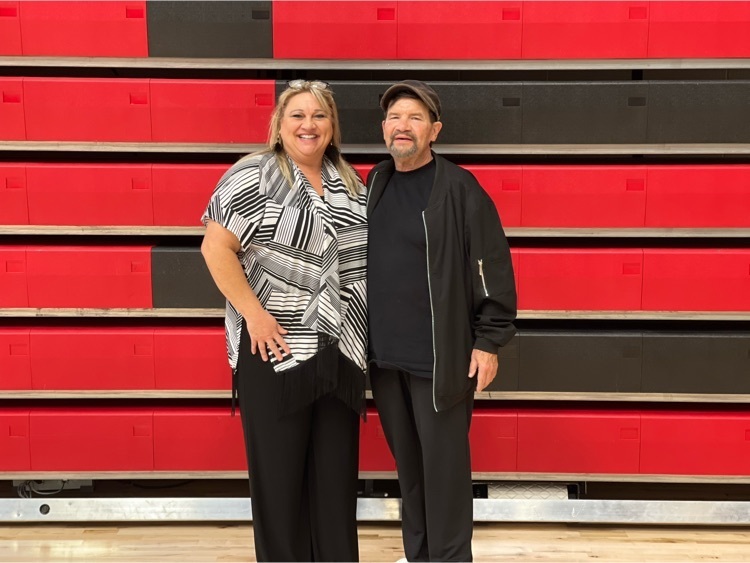 On Thursday, May 6th, at 6:00 PM, in the high school arena, we will have our senior awards and candle lighting ceremony for juniors. All Juniors and seniors are asked to attend. Parents and guests are encouraged to be there. Graduation will be Monday, May 10th at 7:00 PM. Seniors will need to arrive for practice at 5:00 PM and will stay until the ceremony. The doors will open for parents and guests at 6:30 PM. Masks are encouraged but nor required.

Dear CMS Parents, I would like to welcome you and your child to the Cutter Morning Star Pee-wee Football Camp. The camp will be for athletes going into grades 3rd thru 7th grades. It will be held May 25-27(2:15 p.m.-4:30 p.m.) at the Cutter Morning Star Football Facility and at the football field. The coaching staff, Cutter Morning Star football players will be present to work with the athletes on the following: skills and fundamentals of football. We will teach each child how to throw, kick, punt, catch, and the fundamentals of tackling that is used in our program. We will hand out awards and certificates to the athletes on Thursday at 4:30 p.m. at the football field. I hope all the children will attend our camp. The cost of the camp is $40.00. There is a price break for families that have more than one child attending: $65 for 2, $80 for 3. The price of the camp also includes a T-shirt. How to register: Forms will be available in the elementary and at the football office. Due Date May 17. What to Bring: Athletic Shorts, T-Shirt, Cleats, Water Bottle

CMS Blood Drive.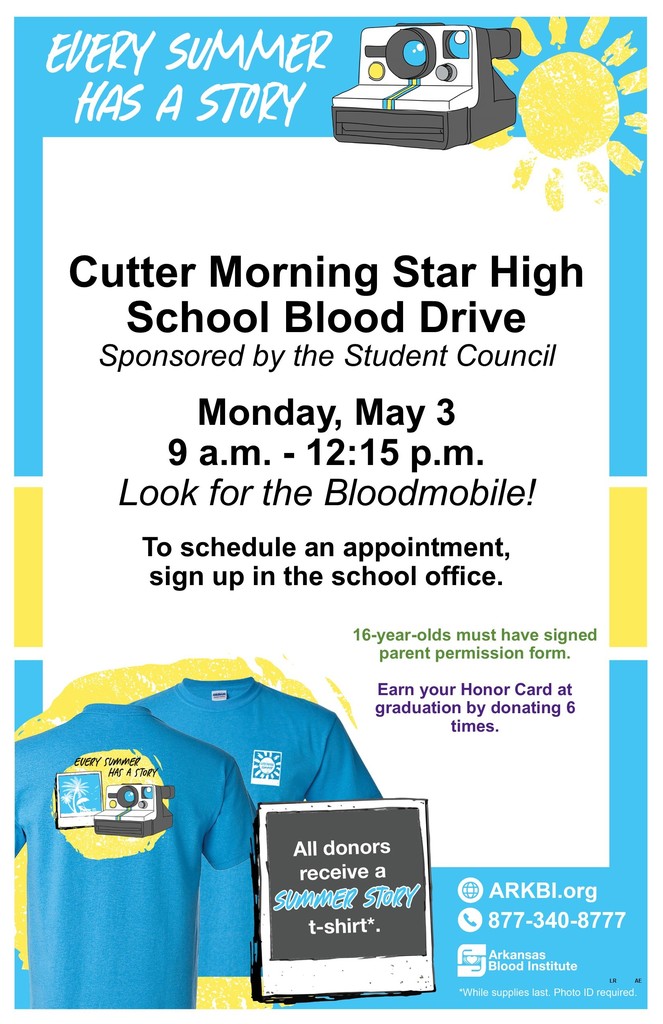 Get paid to work. Come join us to learn about the wolf transition program for 2021-22 Jr's and Sr's.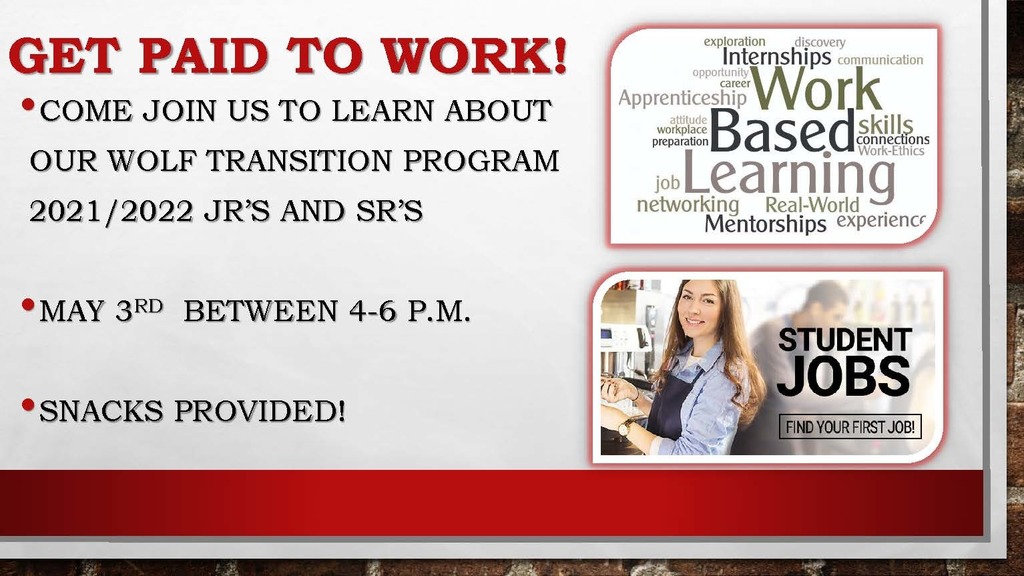 CMS 2021 Athletic Banquet will be held on May 7, 2021 in the High School arena starting at 6:30p.m. Tickets are on sale now in High School Office for $15.00. Athletes are free. For more information please contact Mrs. Bissell or Meagan Babb.

If you have been accepted at National Park and are planning to enroll for the Fall of 2021, Diane Meredith will be available in the Student Commons at National Park College from 10:00 to 2:00 this coming Tuesday, April 27th to get you registered for classes. Here are her directions when you get to the student commons: They need to go to the 2nd floor of the Student Commons, and then go to the front desk in the Advising section. It's on the right hand side at the top of the stairs. They can't miss it. When they get to the front desk, have them ask for me and they will be directed to my office. This is a great opportunity to go ahead and get classes scheduled before they fill up, and to see the campus if you have not been over there. Diane is working only with students at Cutter, so she is the best person to go to get registered. Please let me know by emailing me at
adam.stage@cmseagles.net
if you plan on being there, so I can send her your transcript, ACT scores, and shot records. If you have classes at Cutter or at the tech center during this time, you will be excused. If you have concurrent credit classes at National Park, you will need to communicate with your instructor to be excused. Thank you so much Adam Stage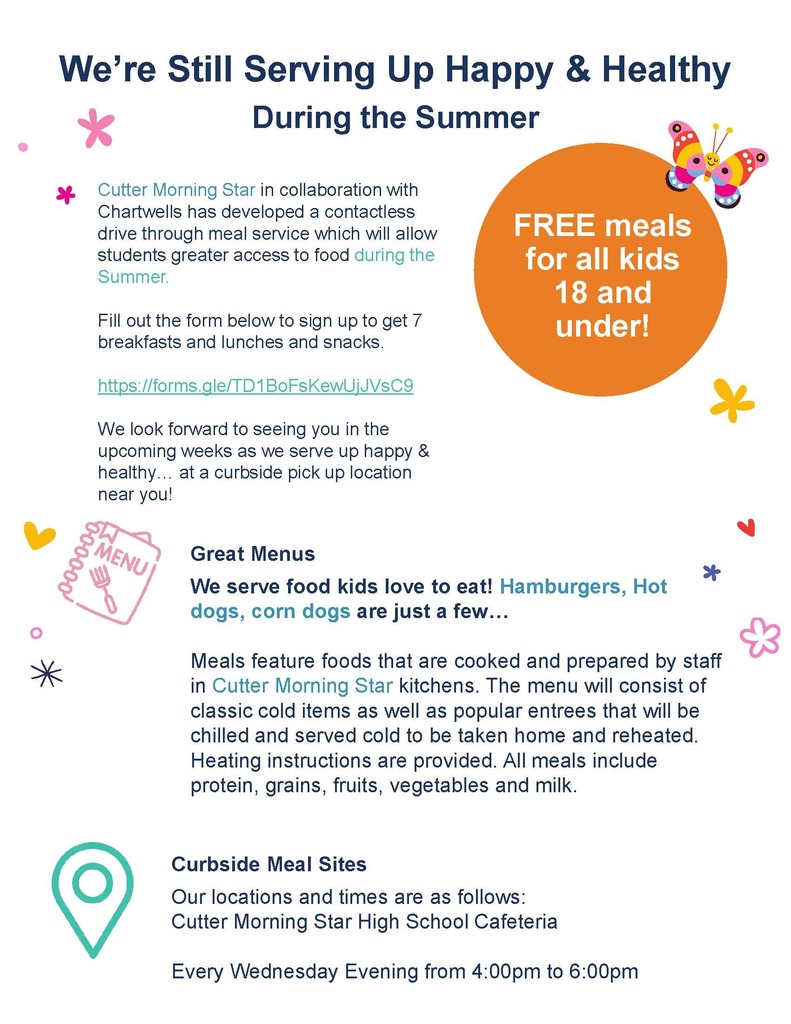 Hi graduating seniors and parents, We will be having a senior meeting next Wednesday, April 14th at 2:30 in the high school arena. EVERY SENIOR MUST ATTEND THIS MEETING.This meeting will be for passing out additional graduation regalia, placing orders for the rose ceremony, and reserving the number of guests that will be attending. If you do not attend, you will not be able to order roses and your number of guest reservations will be limited, so everyone must attend. I will be passing out graduation invitations and any extras that you might have ordered. I will also be passing out caps and gowns for seniors who have not received theirs. Parents may attend but are not required to attend. Thank you, and I will see you there!

Next week, we will be administering ACT Aspire testing for 7-10th grade students. This testing will take place April 6th-April 9th (Tuesday-Friday). Because testing will take most of the morning and will require the use of all of our staff, in-person juniors and seniors will not be required to be at school until after lunch (11:45). Junior and senior students will not be counted absent 1st through 4th periods. However, students will be counted absent if they are not present for 5th through 7th periods.

We are off lockdown and back to normal. Thank you for trusting us to keep your students safe. They were never in danger but we always take precautions and are overly cautious.