Tonight's Volleyball games will start at 5:00 instead of 4:30. Senior night festivities will be between the JV game and V game. Thank you and Go Eagles!!

Tonight's Volleyball game with Scott Charter has been cancelled. There will be NO games Monday October 3rd!

We are in need of a chain gang this season. We need three people to help us out on Friday nights. The first 3 people will get the job. Text or call 501-538-7360. Thank you and Go Eagles!!

Come out and support our Cheerleaders! They are out in the HOT weather doing a car wash fundraiser. If you don't want a car wash at least come donate to them. We want to teach our students about hard work and we need you to support them. They will be at the Eagles car wash from now until 1:00 p.m. come get a car wash and donate! Thank you for your support.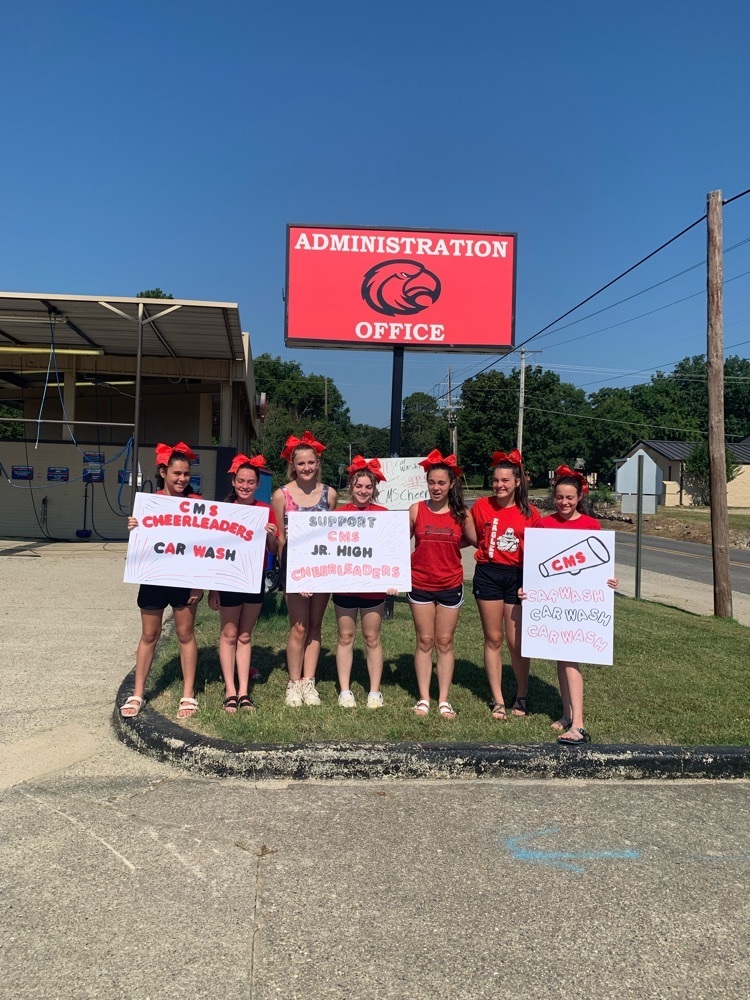 Eagle Fans, The 2A South Regional has been postponed one day as of now due to weather. We are scheduled to play @ 5:30 Friday now. If something changes I will keep everyone updated here. Thank you and Go Eagles!

Eagle Parents and Fans, Please come out and support the Eagles as they take on Lafayette County in the first round of regionals @ 5:30 Thursday in Dierks. We will take a fan bus that will leave at 3:30, directly after school for any 7-12 students that would like to go.

Eagle Parents and Fans, We are still trying to set a home attendance record tomorrow night!! We are just going to make it happen on a Tuesday night instead of a Friday! All Students K-12 get in FREE, All Employees and a plus one are in FREE and ALL CMS Alumni are in FREE!! Tell your neighbors, tell your friends, tell your family members to come be a part of the last home game this season and a part of history!! Go Eagles!!!

Eagle Parents and Fans, The basketball schedule this week is as follows. Feb. 8 Magnet Cove SG SB 6:00 Home Feb. 9 JG vs TBD 4:00 @ Caddo Hills (Semi-Finals) Feb. 9 JB vs TBD 7:45 @ Caddo Hills (Semi-Finals) Feb. 11 SG SB @ Dierks 5:00

Cutter Morning Star will be using another AMI tomorrow, Friday, February 4, 2022. Please stay safe and warm.

Eagle Parents and Fans, Here is the schedule for tonight's Homecoming Events and Games. The Senior Boys will play after the Junior Girls tonight and the Senior Girls will be the last game. Please come join us for the fun! Homecoming Day Schedule 1/28/22 2:15 - 2:45 Pep Rally 2:50 - 3:20 Coronation 5:00 - 6:00 First Game 6:00 - 6:30 Homecoming 6:40 - 7:40 Senior Boys Game 7:40- 8:40 Senior Girls Game

Eagle Fans and Parents, I have a couple updates to share with you. First, The senior boys game with Horatio will be made up @ Horatio next Wednesday the 2nd at 4:30. The JH district Tournament will be played at Caddo Hills Feb. 5-10, the times and days are yet to be determined. The Senior High District Tournament will take place Feb. 12-18 @ Horatio High School. Times and days are yet to be determined. Lastly, Next Friday Feb. 4th we want to set an attendance record at the new Eagle arena with our game against Magnet Cove. It's the last home game for our teams this year and a big one with conference seeding implications on the line. Students K-12 are free admission. The arena holds 1,532 lets fill it up!!!

Eagle Parents and Fans, Tonight's games at home with Foreman are SG SB starting @ 5:30. Hope to see everyone tonight! Go Eagles!

Eagle Parents ad Fans, Here is the most updated schedule changes I can give at this time. Tonight is 3 games at home. 7B JB SB 5:00 start. There will be no SG game. Thursday is a makeup game at home against Foreman. SG SB 5:30 start. Friday is as scheduled with Mt. Ida at home. JG JB SG SB 4:30 start. The only other schedule change is that the JH night scheduled for the 31st at Jessieville has been cancelled all together. I apologize for all the changes that are being made trying to do my best to inform everyone as soon as I know.

Eagle Parents and fans, I just wanted to get out as many updates as I could regarding reschedules and cancellations after last week. First, The Horatio game has been rescheduled for this Wednesday January 12 at 5:00 @ Horatio. JB SB only. The Dierks game that was scheduled for tomorrow has been moved to Feb. 11 at 5:00 SG SB only, no JH Game. This game will take place instead of the Mt. Ida game on the same date. We are currently still working on a new date with Foreman and I will get that information out as soon as I know. Thank you and Go Eagles!

Tonight's game with Horatio will be JG and SG only at 4:30. We are working on rescheduling games that we will lose. I will get dates out on those as soon as possible.

There has been another schedule change for tomorrow nights JH games @ Harmony Grove. It will only be 3 games starting at 4:30. 7B JG JB. No 7G as their team has had to quarantine. I would like take this opportunity to both apologize and thank our greatest asset, our parents and fans! The scheduling conflict tomorrow is my fault. I know we have pee wees, JH, and SH on the same night and that is tough on parents and fans who have kids at all 3 levels. This was not the plan but due to scheduling conflicts and reschedules it made a chaotic day. Again, I apologize and will do a better job in the future of making sure this doesn't happen again. Thank you for all that you do and all of your support! Go Eagles!!!

A few basketball updates for the remainder of the season that may not be on schedules that are already out there. 1/4 Caddo Hills 7G JG SG SB 4:30 Not 7B as previously listed 1/6 Foreman SG SB 5:30 Rescheduled Game from 12/14 1/6 7G 7B JG JB 4:30 @ Harmony Grove 1/29 7t Grade Tourney @ Jessieville 1/31 7G 7B JG JB 4:30 @ Jessieveille Thank you for all your support and Go Eagles!!

Tonight's games with Foreman have been cancelled and rescheduled for January 6th at 5:30.

Cutter Morning Star High School is in lockdown because we received a threat. We are investigating the situation. We have Garland County Deputies in our high school building assisting in the investigation. Elementary is on soft lockdown as a precautionary measure. We will update you as soon as we have more details.

ATTENTION!! Just a reminder that ALL 3 of our gym floors will be redone starting Friday Oct. 29- Sunday Oct. 31. NO ONE is allowed to use these facilities for any reason this weekend. We can resume using them Monday morning. The only shoes that should be worn on the floor after Monday are CLEAN ATHLETIC Shoes!! Thanks and Go Eagles!!