Cutter Morning Star School District officials say the expected completion date for its new high school building and basketball arena will be about a year later than originally projected, due mainly to the various approvals required at the state level for the project.
Voters approved an 8.4-mill increase in September 2018 to fund the project, which has a total budget of around $15 million. The district received $6.266 million through the Academic Facilities Partnership Program of the Arkansas Department of Education, according to Superintendent Nancy Anderson.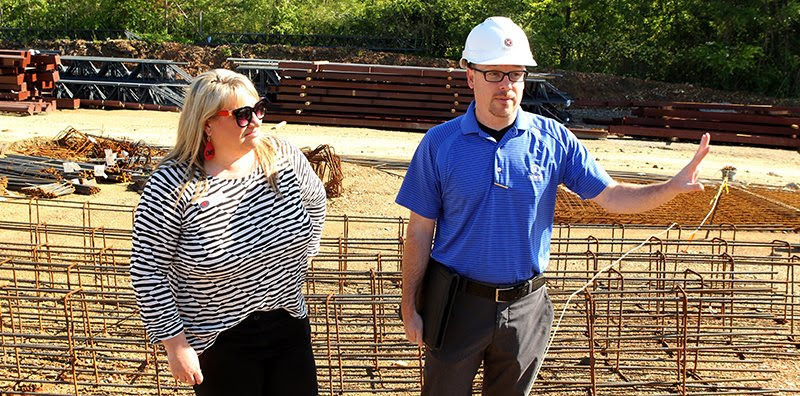 Both facilities were designed by Jackson Brown Palculict Architects in Little Rock. Hill & Cox Corp. is handling construction.
Featuring a split-level design, the high school building will have eight junior high classrooms on the bottom floor and eight high school classrooms on the top level with a ground-level space for administration and common shared areas for art, music, media specialists and computer labs.
"Schools are really unique buildings. They're not really cookie cutter. Cutter has requirements that they want to meet, so we have to design the job and build the job based upon those unique requirements that Cutter wants to meet so they can meet the requirements of their students and faculty. So going through that process is a long process. You go through multiple iterations to find the final product that you're going to get," said Robbie Cox, Hill & Cox Corp. project construction manager.
The facility is designed to accommodate 307 students. Cutter Morning Star's current total enrollment for junior high and high school is 297, according to Anderson.
"That is one of the things that a lot of people talked to me about is the number of students we built it for when we're really already kind of at that number. But the way the state does the calculations, you have to build it for current enrollment. Not for future enrollment," she said.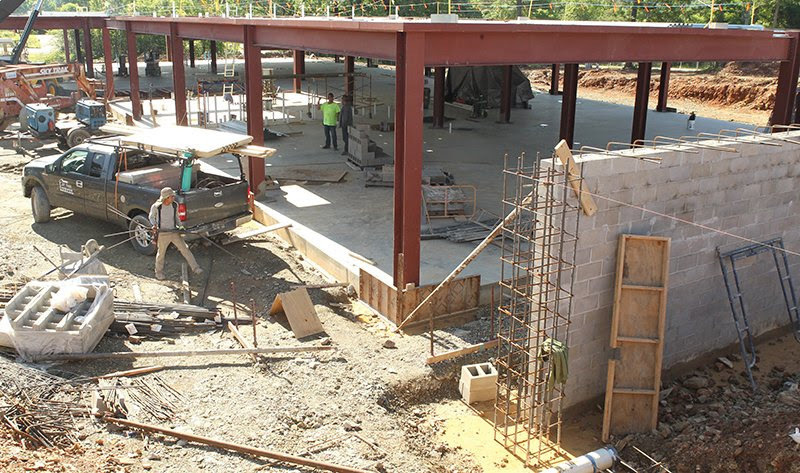 The arena is set to seat at least 1,500 to make hosting the state basketball championship tournament a possibility.
"We're hopeful that the arena will serve a multitude of purposes -- graduation, basketball, volleyball, esports, archery tournaments. We really want to use it for a lot of different things," Anderson said.
The groundbreaking for the project was on May 21, 2018, with the original intent of having the class of 2020 to spend its senior year in the new facilities.
In late 2018, the completion date was set as sometime in the summer of 2020, with a hopeful move-in date set for August, according to Anderson.
This would mean that the class of 2021 would be the first to graduate from the new building.
According to Anderson and Cox, while weather issues have been a minor issue in the building process, the real difficulty came in getting plans, drafts and other documents and forms approved by the state before they could progress with the project.
"Truthfully, the weather issues have not really postponed where we are going to finish the project because when we got started, basically the first of the year, the issues that actually caused that were trying to get the drawings and plans finished, get them approved by the state. Whenever we did that, we knew already that we were not going to be able to get in at the end of the year. So the weather really wasn't the factor in pushing that back as much as actually just getting approvals from the state," Cox said.
"We had some issues getting things approved from the department. We got hung up on a stage for quite some time, and so it took a little bit longer to get some stuff approved from the department and then we've had some weather issues and things like that. We'd love to have them to graduate, but I don't think it's going to happen," Anderson said.
She also cited the effort to stay under budget as a contributing factor to the completion date.
"That was another reason for the time delay, because the architect, construction manager and district worked very closely together to keep it in budget because we promised our community what we would deliver and we tried very hard to keep it in that budget."
Despite the class of 2020 not having the opportunity to partake of the new facilities as expected, Anderson said the school still intends on including them in the new building.
"When we first started and did the groundbreaking, we were thinking it was going to be the 2020 graduates, so we allowed them to be part of the ceremony. We are going to honor them in some way," said Anderson.
"The weather and the holdups with different things, I feel really bad about that. That was one of the things I did learn through this process, that you can't control the weather. You can't control when you have so many other people involved. We don't know how yet, but we do want to honor those kids that were the ones that kind of took the lead."
She added that the bench that the class of 2018 gifted to the school would be placed somewhere in the new building.
For now, construction is ongoing, and according to Cox, erection of framing for the project began three weeks ago.
"This is probably only 20 percent of the building. So we'll be doing framing well into probably the end of this year," he said.
The project currently has approximately 30 workers on site each day, but Cox said that as construction progresses, that number will rise to 75-80 workers per day, many of which are local.
As for the old Cutter Morning Star High School building, Anderson said the district is currently investigating ways to re-purpose it.
"We've gotten quite a bit of feedback on that. We actually applied for a school-based health clinic, but we haven't heard anything on the grant yet, so I'm assuming we haven't gotten it. But I haven't gotten the letter for sure that we didn't. We're looking at a lot of different things."
Anderson offered her thanks to several groups of people for the new facilities.
"The biggest thing is our board support. They've worked tirelessly. The community has been very, very supportive. And I know that they are very, very excited," she said, along with expressing thanks to Hill & Cox Corp. and Jackson Brown Palculict Architects.
Cox and Anderson expressed their belief that the new facilities will be well worth the wait.
"When you're spending $15 million on a project, you want it to be done right. This is a one time shot. So having things exactly how Cutter Morning Star needs them to be is the most important thing. We're on time and in budget with what we have schedule wise and moneys set aside for the project. And despite some weather that we have had recently, the project is progressing well," Cox said.
"We don't build buildings here ... every few years, so we wanted it to last. We wanted it to be timeless. If they don't build anything else in 50 years, we want it to still be functional," Anderson said.